November 4 – 10 2023, Ibiza, Spain.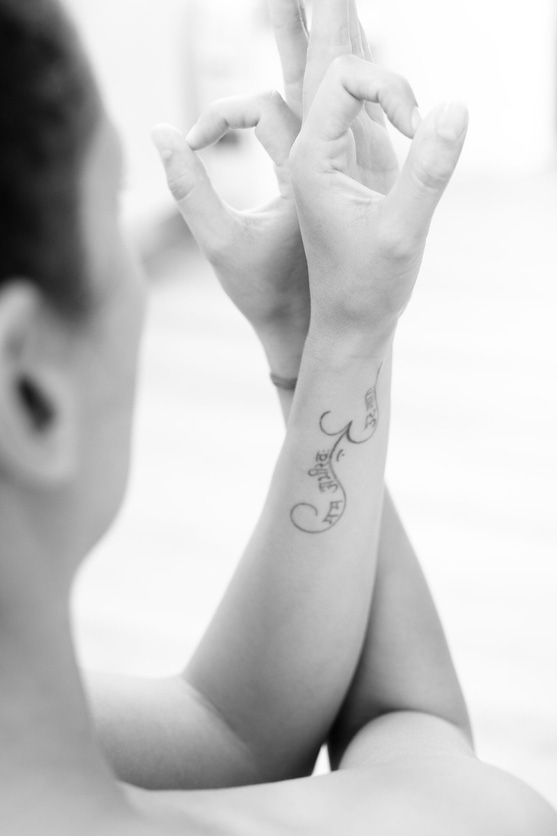 explore the wild terrain of the soul
Are you looking to reconnect with yourself, gain new energy and create space for more creativity, growth and awareness? Away from the stresses of daily life, we dive deep into what truly empowers you and rediscover your true nature.
This retreat will be the perfect opportunity to take a step back and experience the enchanting wilderness of the magical island of Ibiza. Join me for 5 days and 6 nights in a luxurious 400-year-old authentic finca. 
Amid stunning natural beauty, we embark on a nurturing, loving and healing experience for the body, mind and soul. We journey to a deeper level of self – discovery through the power of movement, breath-work, mediation, music, shared wisdom and attunement with nature. 
Something wonderful always happens when people meet at heart level. We will bond as a group in an open and supportive environment as we explore ways to connect to our bodies and mind and better understand ourselves.
Are you ready to find the magic inside?
With love Saskia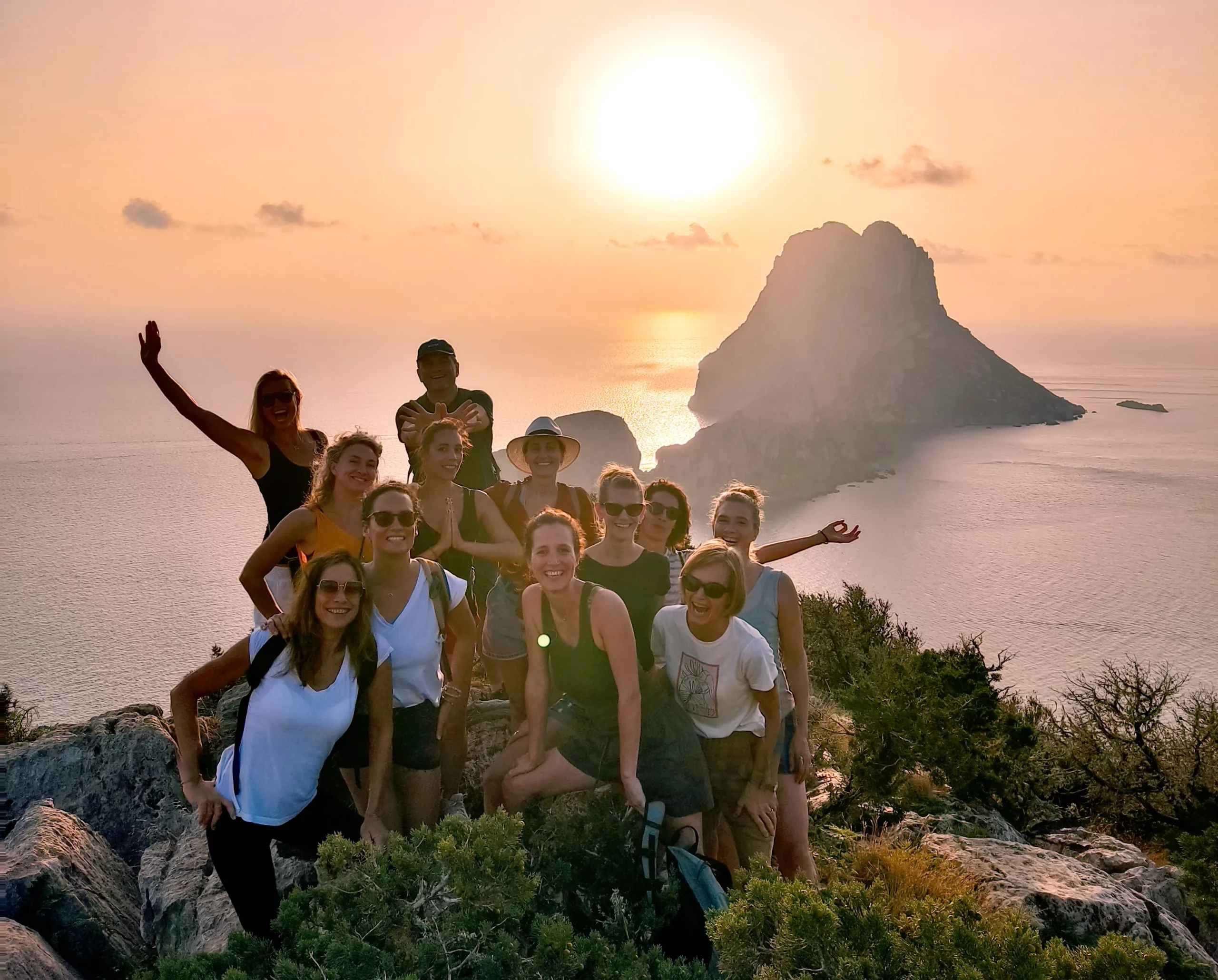 A personal deep dive journey into yourself.

Exploring and opening up to your own potential.

Daily yoga, meditation and breathing practices in a stunning yoga dome (where insects and unexpected weather conditions won't bother you).

A liquid breathwork session.

Sacred soundhealing ceremony.

Cacao ceremony.

Journaling and reflection time.

Essential oils and music.

Plenty of time to unwind, contemplate and quietly enjoy the peaceful surroundings.

A gift and booklet with questions to journey deeper.
2 daily delicious and nutritious meals plus snacks and fruits.

Water, tea, coffee served throughout the day.

Exploring the beauty of Ibiza.

Group excursions/activities.

Accommodation at a luxury 400 years old finca.

The intimacy of a small group.

Personal attention.

And of course, lots of fun and the best conversations with kindred spirits!
It is important to note that we are flexible: we will go with the flow, so there might be some small tweaks and surprises.
What's not included?
Airfare

Travel insurance

Airport pick-up and drop-off

Extras like a massage or reiki session
To keep the retreat personal and intimate, we will limit the group to 12 guests.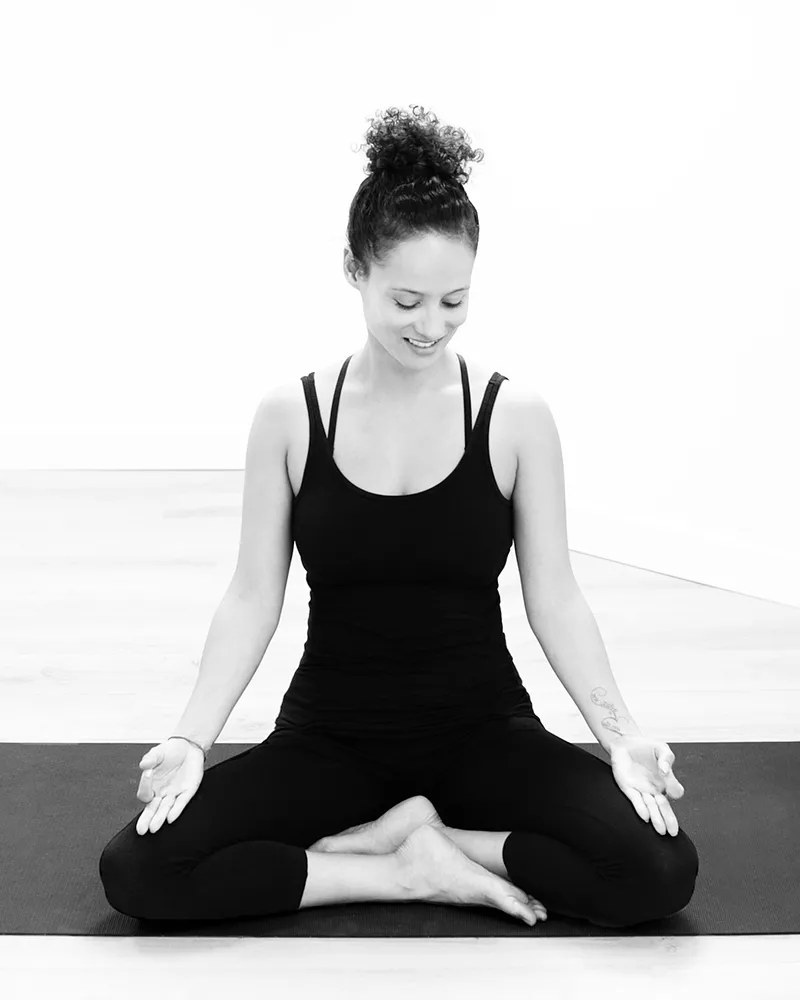 A global citizen born in the Netherlands, Saskia earned master's degrees in economics and Latin American studies. After running her own sustainable fashion company for many years, she journeyed to India and found her true passion in yoga, breathwork, meditation and coaching. She has travelled the world and completed various teacher trainings and immersions to deepen her knowledge and practice.
Saskia is passionate about helping people rediscover their authentic selves and connect with their inner source. Her gentle, welcoming and open spirit sets the tone for every practice. She loves all kinds of movement, body and breathwork and honors the time to go within. Each of her creative yoga, meditation and breathwork sessions offers something different to experience and explore, using storytelling, movement, alignment, poetry and humor to awaken the body, mind and soul.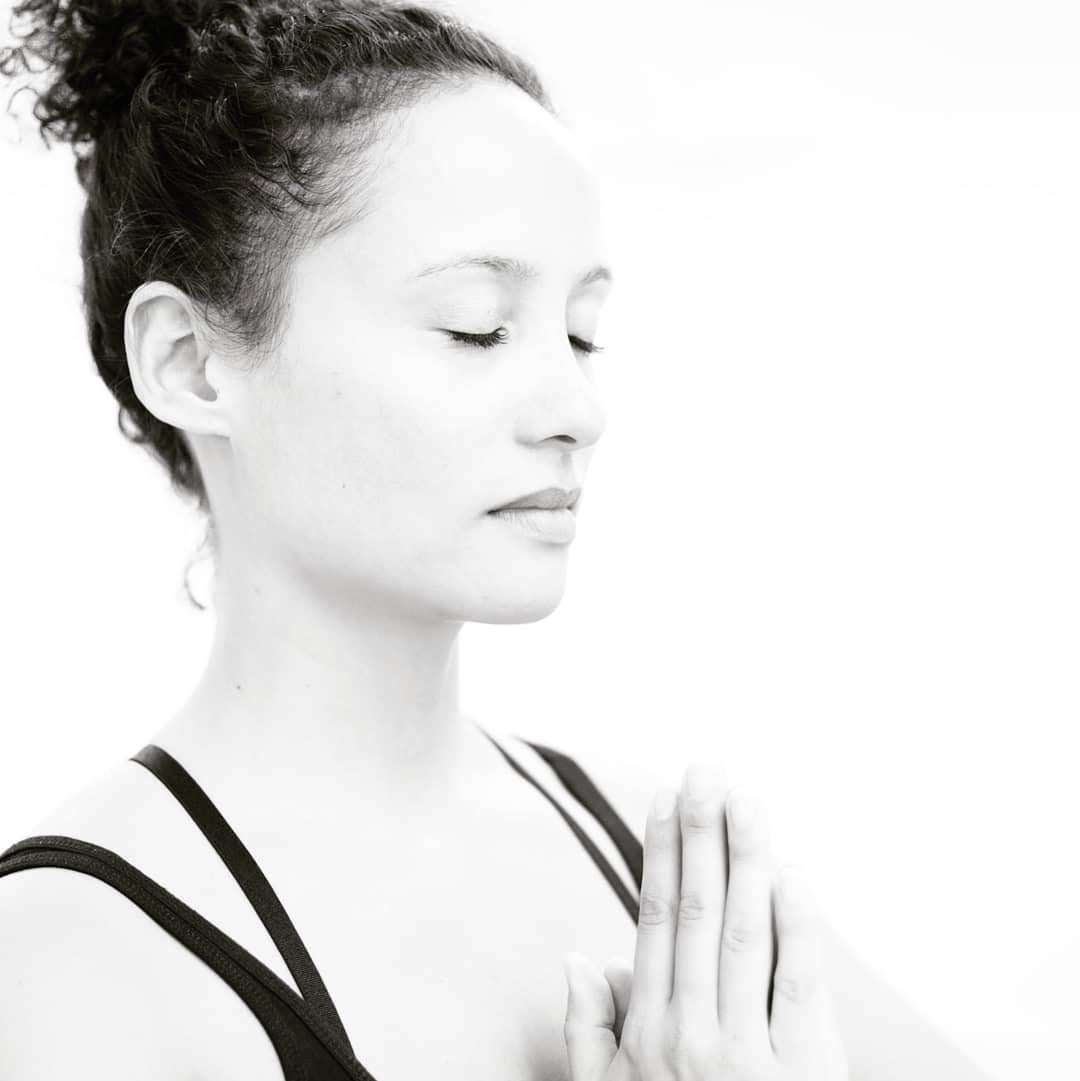 The past ten years Saskia has guided many retreats and workshops to a global community of yogis of all levels. She ran her own yoga school while living in Medellin, Colombia for six years and currently teaches in the Netherlands. Her virtual sessions and international retreats transcend borders to create an open and nurturing space for people to connect with their inner universe and with each other. Saskia loves taking yoga beyond the mat and finding new ways to explore and express different sides of ourselves. She wakes up every day dedicated to guiding people to live a more healthy, meaningful and empowered life.
The first day is the arrival at the villa and settling in our rooms. We will begin with an opening circle and ceremony and finish with a delicious dinner.

We will embrace each morning by awakening body, mind and spirit. Starting our day with warm tea or coffee and fruit followed by a meditation, yoga and breathwork practice. We will then enjoy a moment to sit quietly, set our intention and reflect or write in our journal.

This will be followed by a delicious nourishing brunch by our extraordinary chef Natalia.

During the day, we will reserve time to chill out around the finca and the pool area. To journal, play, read, dream or rest. Or go for a hike around the finca area.

Group activities will be organized, such as hiking with a local guide, heading to the beach and watching sunset at Es Vedra.

Local facilitators will be invited to host a sound healing session and cacao ceremony.

A liquid breathwork session will be offered to release physical pain, stress and tension. To come closer to your true self and soften body mind and spirit.

Drinks like water, coffee and tea will be available all day and in the afternoon snacks will be served.

We have an on-call massage and reiki therapist if you want to treat yourself even more. Appointments for this can be booked and paid for separately during your stay.

In the evening we enjoy a delicious, home-cooked dinner.

After dinner, we will sometimes have additional activities such as a bedtime yoga nidra session.

On the last morning, we will wrap up the retreat with breakfast and check out.
The hillside luxury property features a centuries-old finca, or traditional farmhouse, on eadobe cottage, and two detached stone dwellings. The property is eco-friendly with a state-of-the-art solar energy and water recovery system. It is perfectly located in a peaceful area of the island with plenty of horses and sheep to be seen.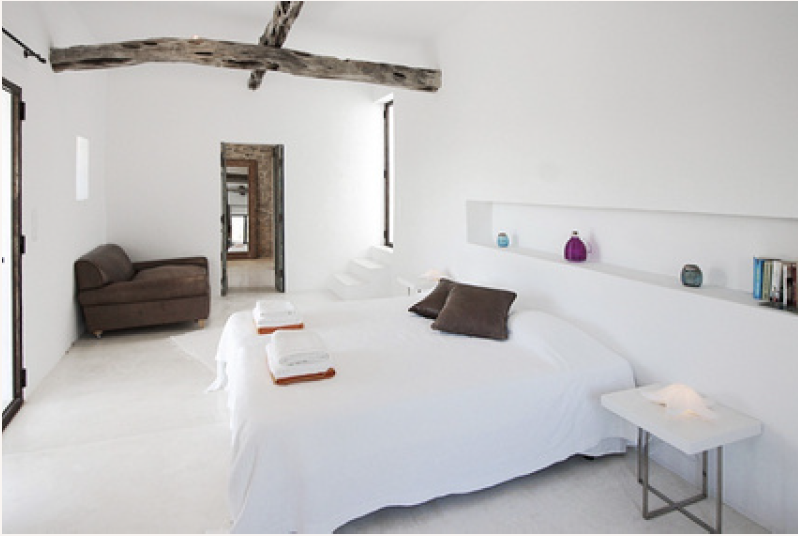 3 double rooms (Cocoon, Zen, Terra Cottage),
twin or queen : 6 persons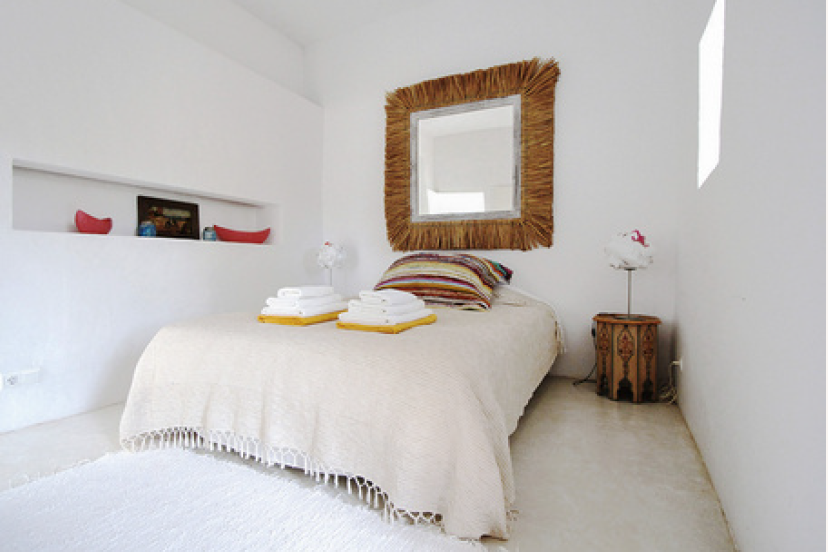 2 double rooms (Yin, Yang), queen only: 2 persons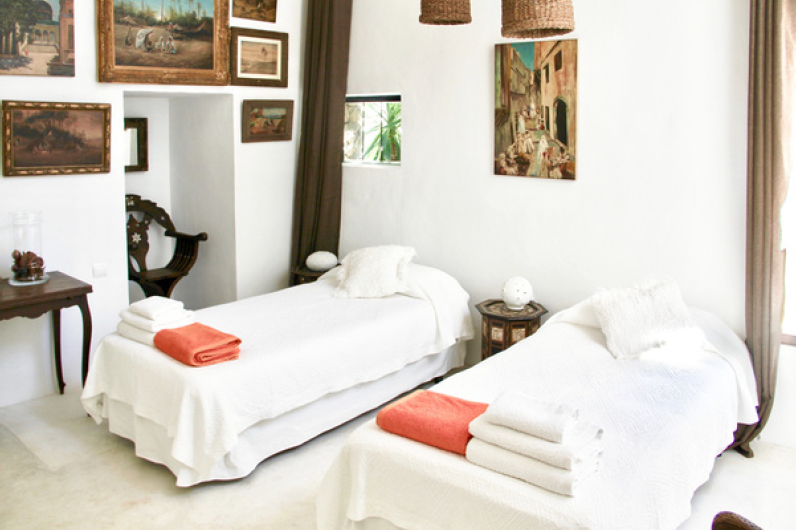 1 quad duplex room (Nest – Perch), twin (Nest) + twin (Perch): 4 persons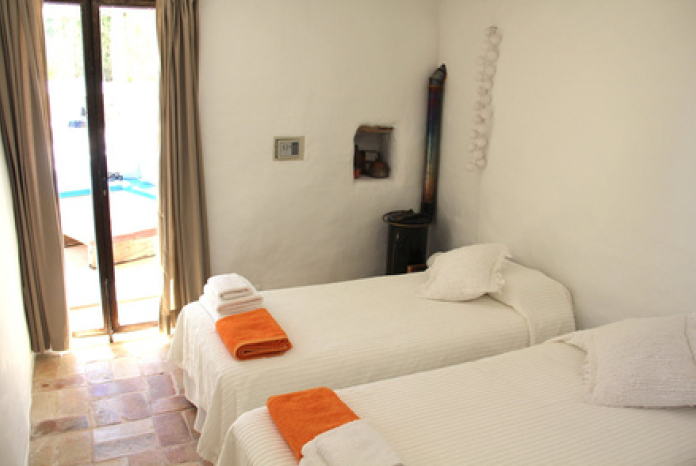 *The prices vary according to the size and utilities of the room
*By booking you will be sharing the room with another retreat guest, except Yin/Yang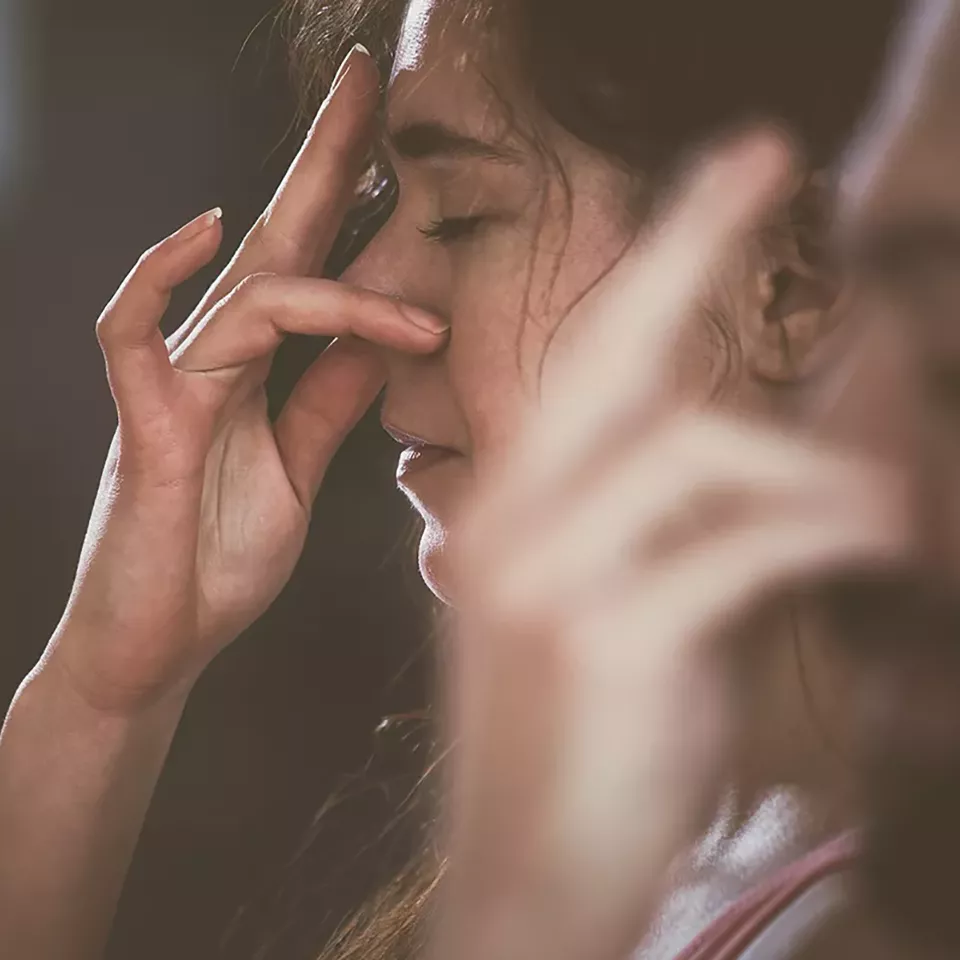 The geodesic Yoga Dome is a unique space specifically designed for retreat groups.
Its luminous and airy volume, tranquil interior, and views of the verdant countryside enhance a sense of well-being during practice.
It is fully equipped with yoga mats and props, so no need to bring anything.
I participated in the Soul Journey Retreat in Ibiza in 2022. You should be prepared to get much more than a normal yoga retreat :). Saskia is a great teacher. She created a wonderful atmosphere and safe space from the beginning, so everyone felt comfortable and could surrender to everything. She also brought many people who live on the island to do ceremonies or other activities with us like a hike and sound healing session. This sharing of knowledge and working things out together as a team was just great! Also, we were really on a soul journey! Saskia prepared a booklet and each day was based on the Kosas (layers of the mind) so there was a continuous journey throughout the retreat. She is also a liquid breath teacher, which brings a whole new experience. If you want to experience yoga to the fullest, along with great people and a great teacher, you should definitely attend one of Saskia's retreats.
Anja Bernet
"I just returned from an un forgettable Alignment retreat at Mallorca. It surpassed all expectations. The yoga and breathwork sessions put you in a 'flow' that connects with your intuition. I found myself becoming more aware of the subtler aspects of life, beyond ordinary rational thinking. Saskia's guidance and techniques helped me to broaden my perception and to connect with my body and feelings. This retreat was a deep dive into self-awareness, new friendship and natural beauty. If you are looking for a way to recharge, reconnect and broaden your horizons this retreat on enchanting Mallorca is exactly what you need"
Jeff B. 
"Saskia is an intuitive, grounded and nurturing teacher who effortlessly guides you through a conscious flow. She gently inspires you to explore the limits of your practice while offering encouragement and support with perfectly timed and meaningful prompts. She exudes a natural ease and grace in her movements and instructions and I feel completely physically, emotionally and spiritually satisfied at the end of every class. Her retreats will leave you feeling connected, inspired and rejuvenated."
Linsey Rankin
"For me Saskia's classes and lessons at the chakra journey retreat in Colombia are much more than a space to practice asanas. It's a space to heal. The stories she tells make sense to the practice and leave you with life lessons for your daily life. It doesn't matter if you have practiced yoga before, everyone is welcome. I feel more quiet, more conscious and ready to recognize my feelings and my inner strength."
Katherine Vargas
Practical info
The Soul Journey Retreat runs from Saturday November 4,
check-in begins at 3 pm andcheck- out is on Friday, November 10 at 10 am.
Prices vary between 1550, – / 1950,- Euro depending on the room.
Please contact me for more information about the rooms and their availability.
I will be very happy to help you and talk you through any questions.
SEND ME AN EMAIL
Looking forward to hearing from you!
With love
Saskia